Got Milk?
If not, get it here… it's free and so is the ice cream
Year after year, everybody has fun at Tylertown's Dairy Festival, even the cows! The festival is free, as are all of festival activities, making it a real treat for families looking for a day of fun. Where else can you get FREE ICE CREAM and MILK? Come early before it's gone! See the event schedule for info on entertainment, pageants, contests (sack race, call-calling, ice cream eating, butter churning, etc.). Don't miss the Tractor and Vintage Engine Show, "Cow Bag Nationals" Antique Car Show, Flower Show, and the International Turtle Races. The Rotary Club sponsors the turtle races and offers divisions for turtles of all sizes. FREE Turtle Race T-shirts are provided by the Kalencom Factory Outlet for the first 180 children registering racing turtles. Craft and vendor booths are stationed along the shady trail offering a variety of items for purchase. All of the food and refreshments are sold by local non-profits under tents near the stage area. Stay until 9pm for the Grand Finale – a lively Fireworks Display sponsored by Citizens Bank.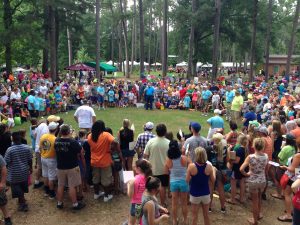 Have a fun-filled day
Enjoy the Music, food, games and activities
Year after year… the Dairy Fest just keeps getting better and better.
Entertainment – The Dairy Fest has been described by out-of-town media as one of the best old-time festivals in existence. There's no admission charge and all of the games and activities are free.
Contests – Sack Races, Flower Show, Pageants, and much more.
Antique Tractor Show, Car Show, and Vintage Bicycle Show. The Antique Tractor Show is as old as the Festival itself. Tractors of all types are on-site, as well as pre-1984 model cars and bicycles.
Food, Fun, and Crafts
Free Milk and Ice Cream, and much more
Dying to hear some tunes or have some fun?
Free Concerts – No admission at the gate or charge to listen to the talented musicians scheduled throughout the day.
Baby Contest – registration is $4 and applications are due by Friday at noon at the extension office ~ (601) 876-4021. Birth to 48 months.
Miss Dairy Fest Pageant – sponsored by Trustmark National Bank and applications can be picked up at either of their Tylertown locations. There are 5 age groups ranging from ages 4-16. The pageant begins at 10:00 A.M. and contestants should check-in no later than 9:30 am.
Turtle Races – The International Turtle Races Start at 3 pm. Registration is at 2pm and the first 75 children will receive a free t-shirt donated by Kalencom. The Rotary Club hosts the races and encourages safe handling practices for the kids and turtles alike.
Fireworks – The Grand Finale is an outstanding Firework Display sponsored by Citizens Bank. It kicks off at 9pm – weather permitting.